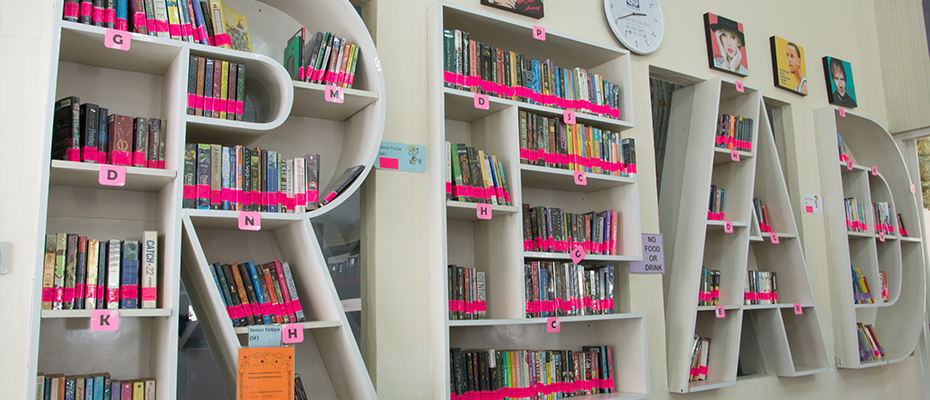 The Library – the hub of the school
Our Mission
To ensure learners grow as competent, ethical users and producers of ideas and information.
To prepare lifelong learners who are effective communicators, critical researchers and problem solvers.
To collaborate and share with audiences beyond our school walls.
To model our school's mission and support learners in the pursuit of aesthetic growth and personal learning pathways.
The Sekolah Victory Plus Library is a proactive learning area where students and teachers have access to a wide range of resources in an array of formats in order to cater to all their learning needs. The collection and services of the Library are aimed at developing students' reading and research skills thereby helping them to become creative and lifelong learners. We believe that catering to the information needs of teachers is indispensable to the development of our students. The Library continuously strives to keep its resources and services updated in the interest of the entire school community.
The Library at SVP is of an intrinsic value to our students' learning process and is seen to be the core hub of the school. Every effort is made to inculcate, nurture and encourage students' reading and research skills. All students, starting from a 2-year old, check out library resources on a regular basis. Library lessons are conducted in order to impart basic skills required for optimum use of the resources available. A range of activities, like Shared Reading, Buddy Reading, etc. are conducted to encourage children to enhance their reading skills. Book weeks, Book fairs and related activities are organized periodically. Library materials are available outside the library building to maximize the students access to rich print material.
Students of the primary years are being trained on the basic library skills including understanding the parts of a book, using the library catalog. Library lessons also focus on the respective units of inquiry in order supplement the research and reading done in their homerooms. Middle Years' students are trained in note-taking, summarizing, citation and various other topics required to equip them for the Diploma Program as well as Higher Learning.
The list of support functions of the library that is offered in the Diploma Programme especially in the Extended Essay is almost endless. The librarians can support the student on individual basis alongside their teachers and coordinator. This is also done by teaching just in time courses on research and citation skills and by producing related knowledge products, which are often web-based.