Diploma Programme (Gr 11 – 12)
"The IB focused my mind on the expansive
possibilities that academic study could lead
to. It gave me a global perspective that has
influenced the places where I have travelled,
studied and worked ever since."


Matthew Albert
1998 IB Diploma Programme graduate
The Diploma Program provides a holistic educational experience, whereby students graduate with an expanded set of higher level thinking skills as a result of the diverse, concurrent study of specific disciplines. An emphasis is placed on written and oral language, including the ability to communicate in at least one second language. The program provides exposure to experiential learning through the Creativity, Activity and Service (CAS) program at a sophisticated level, whereby students can take planned action and reflect on their resulting personal growth.
The Diploma Program boasts internationally-ratified high standards of criterion-referenced assessment in all subjects. These varied forms of assessment allow for students to demonstrate learning in multiple ways, including face-to-face orals, laboratory reports, projects, dossiers, exhibitions and portfolios as well as written examinations. The IB's learner profile allows students to assess their progress against defined personal attributes.
"We are so confident in the IB curriculum that—after successful completion of their first year of college—we will grant an entire year's worth of credit to students who hold an IB Diploma, allowing them to complete graduation requirements in just three years."
Kevin McKenna,
Dean of Enrolment
Sarah Lawrence College
The IB Diploma Programme emphasizes academic achievement, critical thinking, research skills and community service. It has been operating world-wide for almost 50 years and is in place in almost 3000 schools in over 140 countries around the world. As the programme has grown, so too has its reputation for excellence; the IB DP is now recognized in almost every country in the world as a one of the pre-eminent pre-university qualifications.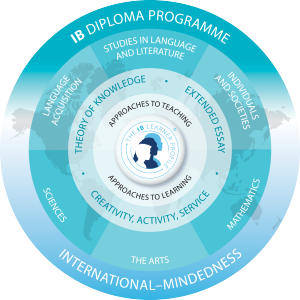 IB Diploma Courses at the Sekolah Victory Plus
Each examined subject is graded on a scale of 1 (minimum) to 7 (maximum). The award of the IB Diploma requires a minimum total score of 24, based on the principle that a grade 4 represents a passing level in each of the six subjects. Excellent performance in the six subjects results in a grade 7 for each, or a total score of 42 points. Students can earn an additional 3 points for superior work on the Extended Essay and Theory Of Knowledge.
Table below describe the subject and their learning periods students should take depending their program.
Group
Subject
Period
 
 
HL
SL
Group 1
Language and Literature (Mother Tongue)
 
 
 
English
6
5
 
Bahasa Indonesia
6
5
 
Korean A: Language and literature (self-taught)
6
5
Group 2
Language Acquisition (2nd Language)
 
 
 
English
6
5
 
Bahasa Indonesia
6
5
Group 3
Individual And Societies
 
 
 
Business Management
6
5
 
Economics
6
5
 
History
6
5
Group 4
Science
 
 
 
Chemistry
6
5
 
Biology
6
5
 
Physics
6
5
 
Computer Science
–
5
 
Environmental Systems and Societies
–
5
 
Design Technology
–
5
Group 5
Mathematics
 
 
 
Application and Interpretation
6
5
 
Analysis and Approaches
6
5
Group 6
The Arts
 
 
 
Visual Arts
6
5
 
Music
6
5
 
Film (through Pamoja Online Education)
–
5
Core
TOK
2
2
 
Support Center (EE & CAS)
1
1
National
Pendidikan Pancasila
2
 
Pendidikan Agama dan Budi Pekerti
2
 
PSEL/ Flag Raising
1
 
Bina Iman
1
Description of Diploma Subjects
For a formal description of each of the subjects within the Diploma Programme 
Theory of Knowledge (TOK)
This course is focused on developing interdisciplinary and critical-thinking skills. TOK explores the interdisciplinary nature among subject disciplines and encourages critical reflection and analysis.
Extended Essay
Students must select, research, and write an in-depth, independent research work of 4000 words in one of their six subjects areas. The Extended Essay requirement offers IB Diploma candidates the opportunity to become familiar with the independent research and writing skills expected at university.
Creativity, Action, Service (CAS)
All IB Diploma students get involved in Creativity, Action, Service (CAS) work. CAS is a fundamental part of the Diploma experience (and one that sets it apart), helping students to grasp the importance of extracurricular activities as an integral part of life, and as a healthy counterbalance to the world of pure scholarship and study. These initiatives and activities are a key part of our student's education. Students focus on local, national and international issues.
"The IB offers preparation for learning
and communicating in an increasingly
interconnected and globalized market."
Brian Keegan
2002 IB Diploma Programme graduate
Assessment in Diploma Program
There are two types of assessment administered in the programme:
External assessment
Examinations form the basis of the assessment for most courses. This is because of their high levels of objectivity and reliability. They include:
essays
structured problems
short-response questions
data-response questions
text-response questions
case-study questions
multiple-choice questions (rarely used)
Internal assessment
Teacher assessment is also used for most courses. This includes:
oral work in languages
fieldwork in geography
laboratory work in the sciences
investigations in mathematics
artistic performances.
Approaches To Learning (ATL) across the MYP and DP
The ATL is a set of skills  within each of he IB programmes, students develop skills that have relevance across the curriculum that help them "learn how to learn". ATL skills can be learned and taught, improved with practice and developed incrementally. They provide a solid foundation for learning independently and with others. ATL skills help students prepare for, and demonstrate learning through, meaningful assessment. They provide a common language that students and teachers can use to reflect on and articulate on the process of learning. ATL skills are most powerful when teachers plan and students engage with them in connection with significant and relevant content knowledge in order to develop transferable understanding.
Those skills are:
1. Communication
2. Social
3. Self Management
4. Research
5. Thinking
Testimonials from students that have graduated from the DP
The following are links to testimonials from students that have already graduated from the DP and they share the benefits of the DP from their perspective.