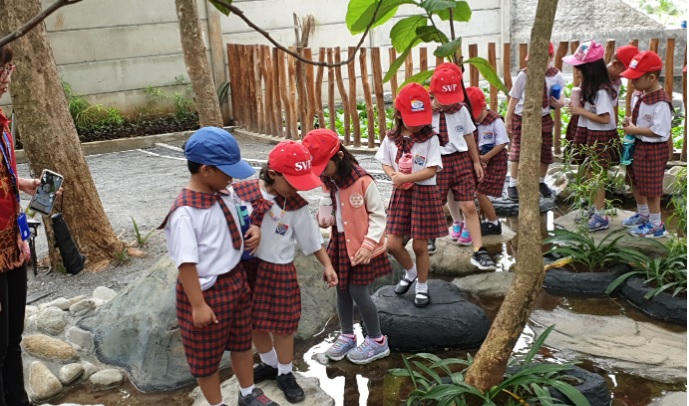 Outdoor playground isn't just fun -- it is vital to children's health and well-being
On 20th of May 2019, we officially launched our Outdoor Learning Centre (OLC)-the most comprehensive outdoor facility in Indonesia. Sekolah Victory Plus has worked extremely hard to design a leading 21st-century facility that will provide the ECE and Primary students a great learning environment. SVP parents can be sure that their children will have a unique experience that is not offered by other schools in Indonesia.
The OLC that is in a natural setting is linked with the holistic development of children including physical development, social/emotional development, cognitive development, and spiritual development. The gurgling of the small river flowing down the rocks, the cool breeze in the OLC area, coupled with the lively joyful laughter of the SVP students who are playing and studying in this place is truly something amazing.

Physical Development
The playground is a great place to develop physical motor skills: climbing, gliding, swinging, running, crawling, and balancing.
According to Fjortoft, children who use "forest as a playground, perform better in their motor skills than those who play in traditional playgrounds" In forest settings, natural playscapes give children an increased ability to balance and show their coordination.
Social/Emotional Development
In order to provide an environment that promotes the development of the child's social-emotional, we must focus on areas in which a group play or social interactions can occur. By playing in the OLC, students will develop their social skills as they interact with their friends. They learn to share, cooperate, respect others' ideas, and express their own ideas, feelings, and needs.
Cognitive Development
Cognitive development is the children's knowledge of their world in relation to language, numbers, problem solving, spatial relationships, and critical thinking through their investigation and exploration of objects around them. Objects that children find in the environment such as soil, sand, plants will stimulate them to creatively explore and observe. Using areas such as gardens, forests, sandpits, and construction areas can encourage science, math, social studies, art, and language learning.
Spiritual Development
Spiritual development links closely with physical, cognitive and social-emotional development. Children would learn to respect, interact, and care for their environments by being immersed in imaginative play areas that included plants, trees, and other naturally occurring elements. Carefully planned environments can provoke children's appreciation of the beauty of their natural world, foster their curiosity about their surroundings and ignite their imaginations.