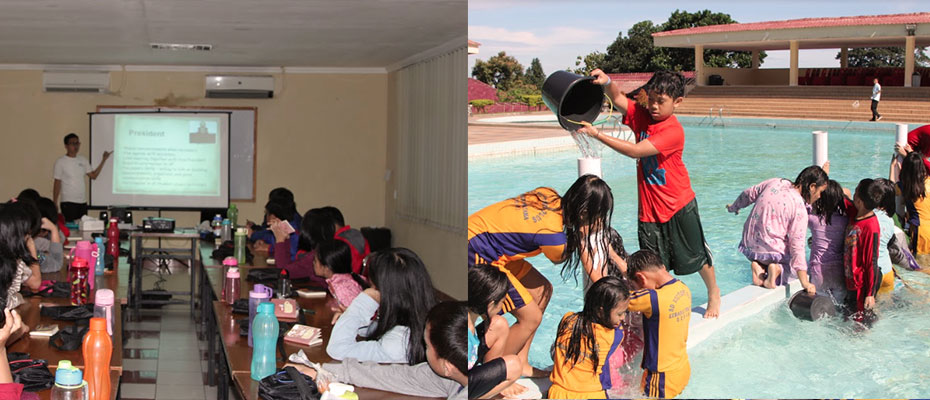 "The quality of your school's student leadership will define the quality of student life on campus. Leadership can be taught and it starts with building a culture that encourages real leadership and provides on-going training for those leaders."
Mike Weber, The Leadership Institute
Student Leadership is an important aspect of life at SVP. As students progress through their education, it is important that they accept additional roles and responsibilities, preparing them for life after their education. Being a student leader enables our young champions to develop their abilities to make an ethical and social impact within the school and in the larger community.
Here at SVP, we have many Student Leadership roles within both the primary and secondary school. The student council in both the primary and secondary school plays a vital role of ensuring the student voice is heard.
PRIMARY SCHOOL
Student Council plays an important role at SVP by:
Being a positive example to others

Providing an open forum

Raising funds

Being a part of certain events
In other words, being on Student Council is something that will help our students become responsible and active members of the community.
Structure:
Roles and responsibilities:
President:
Leads all meetings

Gives assistance, guidance, and praise

Acts as a facilitator during discussion

Maintains frequent contact with school management and students

Works with advisor (Vice Principal) on all planning

Participates in student council sponsored activities/events
Vice President:
Works closely with President

Assumes President's duties when needed

Works with President and Treasurer in preparing event proposal and budget

Assists the President in preparing meeting agendas
Treasurer:
Oversees council expenses and revenues

Maintains an accurate and detailed financial record

Gives monetary advice to the council

Authorizes payment/deposits

Works with President and Vice President in preparing event proposal and budget
Secretary:
Keeps an accurate account of attendance at every meeting

Helps maintain student council files

Maintains contact information of people who work with the council

IS Responsible for "Thank You" cards
Publicity:
Keeps student body informed of events, fundraisers, and service projects

Obtains approval for events

Is responsible for communication between schools

Helps maintain student council website
Head Member:
Supports student council officers (President, Vice President, Treasurer, Secretary and Publicity)

Organizes other members (not student council officers) to plan and oversee specific Council activities
Criteria:
Has an average score of not lower than seven in all subjects

Good communicator (oral and written)

Disciplined (comes to school on time, submits  homework on time, good attendance)

Good manners/behaviour
Procedures:
Candidates must write an essay explaining why they would make a good student council representative

Homeroom Teachers choose five best essays (that have passed the four criteria)

Student promotes him/herself (Campaign)

Joins the Leadership camp to sharpen their skills.

President candidates give a  speech on election day on the stage
Events held by Student Councils:
2013-2014: Collected Used Books and donated them to the needy

2014-2015: Fund Raising activity and the money collected was donated to the nearby orphanage

2015-2016: To support Earth Day, the student councils bought some cleaning utensils to be donated to SDN Sepanjang Jaya VII

2016-2017: To support Conducive Environment theme, the student councils held an event consisting of varied activities from Grade 1-6.

2016-2017: Worked collaboratively with Grade 5 HRT collecting used toys and donated them to Sekolah Tunas Mulia and Panti Asuhan Akhiruzzaman.

2017-2018: Supported the Athletic Days as the chaperones during the competition.

2017-2018: Helped the administrator in organizing students' tardiness during flag raising ceremony.
STUDENT LEADERSHIP IN SECONDARY
Students learn and apply their leadership skills in the Student Council organization. The organization plays the role as a medium for students' voice in school activities. The Student Council members are very important as a role models in the school. The responsibilities of Secondary Student Council are :
Working with the staff, Board of Management and Parents' Association of the school

Communicating and consulting with all of the students in the school

Involving as many students as possible in the activities of the Council

Planning and managing the Council's programme of activities for the year

Managing and accounting for any funds raised by the Council
Secondary Student Council committee roles :
President
The President has responsibility for presiding over meetings of the Council.

President with vice president prepares the agenda for each meeting

The president may also be designated to represent the Council at meetings with school management.
Vice president
The vice president is responsible for assisting the President, and when the President is absent from a meeting s/he assumes the role of the President for that meeting.
Secretary and Vice secretary
The secretary with vice secretary prepares the agenda for each meeting

The secretary circulates it to all the members of the Council either in advance of the meeting or at the start of the meeting

The secretary keeps a record of Council meetings and any decisions taken by the Council (minutes of meeting)
Treasurer
The Treasurer is responsible for managing any funds raised by the Student Council

The Treasurer should keep a complete account of all income and expenditure of the Council

The Treasurer should provide the Council with a complete financial report at the end of the school year.
Publications
Publications are responsible for promoting good communications between the Council and the student body as well as consulting with teachers, parents and school management on issues affecting the student body
The Secondary Student Council also has several divisions that organizes activities of the Student Council programme. Those divisions are Arts, Sports, Academics, and Social Service divisions. Each member of the Secondary Student Council always participates in programmes such as the student's orientation, Teachers day, Secondary Students Council Leadership Camp, Flea market with Parents group, Caring month and also Promenade night. They work together as one team and make sure that all Student Council programmes run successfully.
Besides, the student council organization, secondary students are prepared to be the leader within their community by participating in many programs/event such as:
Leadership Camp
In the first semester of grade 7 and 10, students participate in this three day two night event in which students learn how to improve among others things their intra and interpersonal skills. Those are the most essential skills to develop as a leader.
Scout Camp
As continuation of the leadership camp, students of the same grade undergo a three day two night trip. During this event, students continue improving their self management, inter and intra-personal skills as well some basic survival and scouting skills.
Flag Raising
Students are given opportunities to be the officers during the flag raising ceremonies which are held every Monday. This is a good practice to improve their self confidence, discipline and patriotism.