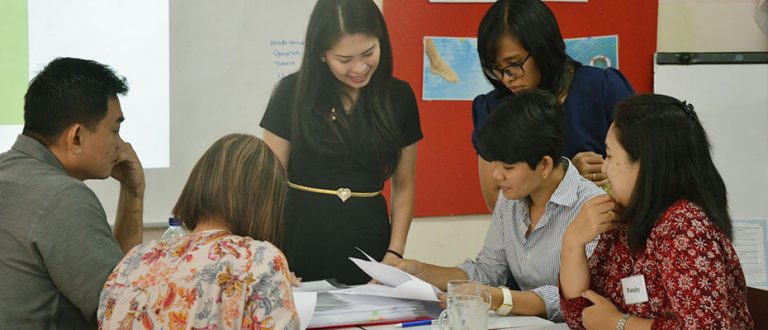 We look for faculty members who are dedicated, caring and are passionate about their subject and excited by the prospect of working within a dynamic and diverse community.
Our teachers are open-minded, curious and make connections across disciplines. Classroom practices emphasize active, collaborative learning. Team-building activities, conferences and lectures by leading educators are among the initiatives we employ to develop our faculty's teaching skills.
Professional development is an ongoing priority, as we strongly believe that a school flourishes when its teachers are themselves committed to lifelong learning. The majority of our faculty have a master's degree or higher.
In short, our professional standards and expectations are high, and the support in place is substantial. If you are interested in joining our team please peruse our website to find out more about our school.
Secondary School Grades 7 - 12
English Teacher
We will require a full time Individuals and Societies teacher beginning July 2021. The ideal candidate will have previous experience teaching IBDP Language Acquisition and/or IBDP Language and Literature, although this is not essential. A further requirement is that the candidate has a background in teaching accounting to Grade 12 level. The candidate will be required to teach within both the IBMYP and IBDP. For further expectations of the position please read the subject teacher job description – click here.
Primary School Grade 1 - 6
Mandarin Teacher
We will require a full time Mandarin teacher beginning July 2021. The ideal candidate will have previous teaching experience and a degree from an tertiary institution from China. The candidate will be required to teach from Grade 1 until Grade 6. – click here for a detailed job description.
For the Secondary School we offer Pendidikan Pancasila dan Kewarganegaraan (Indonesian Civics), Religions (Buddhism, Catholism, Christion, Hinduism, Islam), Bahasa Indonesia, Biology, Chemistry, Physics, Mathematics, Physical Education, Computer Studies, Mandarin, Business Management, Economics, Accounting, Design Technology, Individuals and Society (History, Geography, Sociology), English, Visual Arts & Music.
All applicants should forward, in English, their application which will include a cover letter, CV and the names and contact details of three professional referees.
Please note: Non – Indonesian nationals must have 5 years of relevant experience, be under the age of 56 years and have no more than one dependent.
For the information related to a career at SVP or to find out about our job vacancies contact +62 21 82403878 ext 130 or email to recruitment@svp.sch.id