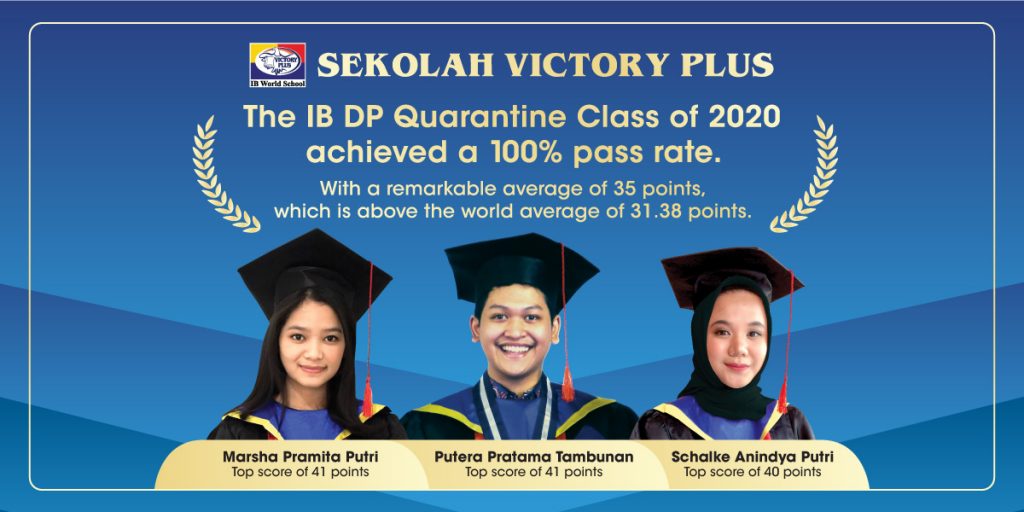 One of the Best Schools in Indonesia & Asia
Sekolah Victory Plus School (SVP) is one of the best schools in Indonesia & Asia, the proof comes from the vast list of graduates from leading universities around the world including in the USA, Europe, Russia, Singapore, Taiwan, Australia and well-known National Universities in Indonesia. SVP is an IB World continuum school, the 9th school is Indonesia to be authorized for the International Baccalaureate (IB) Primary Years Programme (PYP), Middle Years Programme (MYP) and the Diploma Programme (DP)
Our Mission is Educating for a Better World.
Since 1998 SVP has worked hard to provide a high quality but affordable international education in Kemang Pratama, Bekasi. We are a nationally based school with an SPK license, meaning that we provide an education that uses best international practices and curricula while maintaining our local sense of pride and belonging. We use a mixture of the best from Indonesian and expatriate teachers.
Our students come from middle class Indonesian and expatriate families, and they will go on to become leaders of business, engineering, education, politics. Many of them will study overseas but eventually nearly all will return to their home country. We aim to teach our students the value of integrity, the value of responsibility, leadership and humility so that when they return, our world can become stronger under their great leadership and guidance. When we say we are educating for a better world, we know that we are teaching the next generation of leaders for the world stage and as ambassadors for Indonesia and beyond.
How are we different from other schools?
IB World school
We are an IB World School. All IB World Schools share a common pedagogy meaning we provide an inquiry focused conceptual based curriculum. It is student centred and has a strong emphasis on the whole student, values, balance and service.
Maximizing Students' Potential
We know all our students have many talents in a variety of areas. We aim to expose all students to as many varying activities as is possible so that each can discover their potential and maximise their skills in order to create well rounded individuals.
The Champion Mindset
RESPECTING human existence and being RESPONSIBLE to our fellow human beings and genuinely CARING for one another is at the heart of a Champion. This mindset underlies the founding of this institution and the mindset of a Champion is spread to all members of the SVP community with the aim to be a Champion for myself, Champion for my family, and Champion for my country and beyond. When we say beyond we mean globally; we hope our students are Champions for local as well as global issues.
The SVP CHAMPION
(A Champion for Ourselves, A Champion for Our Family and
A Champion for Our Country and Beyond)
Qualities of a SVP CHAMPION :
The characteristics of a SVP Champion is a mindset, to lead and adapt to changes, to take on challenges courageously and creatively and to seize the chance. What do we mean by a mindset ? Basically, a mindset is a way of thinking;
"Your mindset is your collection of thoughts and beliefs that shape your thought habits. And your thought habits affect how you think, what you feel, and what you do. Your mind-set impacts how you make sense of the world, and how you make sense of you."
We use the mnemonic, CHAMPION to help us remember the different components of the Champion Mindset
Courageous – never giving up when faced with difficult circumstances even when you fear the outcome
Honest – always being truthful and open in dealings with others
Active– taking action, being involved and participating in the life of school, family and community
Mindful -being aware of your thoughts, emotions, and how you're feeling both physically and mentally
Positive– having confidence in yourself and your opinions
Innovative– being creative in finding a solution to challenges
Open minded– willing to consider ideas and opinions that are new or different to your own
Noble– committed to doing what is right, fair and respectful
Champion for myself, my family and my country and beyond
"SUCCESS of our Students is our SUCCESS"
At SVP all students will Discover the Joy of Learning, students will discover, on a daily basis, the joy of learning new things. Our students will become lifelong and independent learners. Learning is both a joy and a wonder and we promise that our students will continue wanting to learn and wanting to achieve and celebrate that new learning.
Our students will become inquirers and will gain many opportunities to hone their 21st Century Skills to enable them to meet the demands of tomorrow's world. We know from the latest educational research that learning is best done through inquiry and that skills and process are just as important as knowledge and facts. We equip our students to be able to take responsibility for their own learning, to ask why and to hone their skills so that they can use that new knowledge and understanding as holistic learners.
Our students will become profoundly Knowledgeable on a variety of topics and subjects, but they will also be able to use this and question and use this knowledge in a meaningful way. They will be Balanced Global Learners. Our students will meet the growing needs of tomorrow's world with a deep understanding of the interdisciplinary nature of knowledge, the skills to communicate in multiple languages in a collaborative manner. Our students will be balanced, and globally focussed.